Brazil
April 4th, 2011
By: Junior |

Add Comments
I know what your thinking "he hasn't posted in forever, how could he!" Yea, yea, yea I know its been waaaay too long and I need to post more consistently. Sorry if any of you have been looking forward to my posts and they haven't come. Hey blogging can be hard. Anyway keeping this one simple, just to tell you guys I'm still around and stay tuned!
February 22nd, 2011
By: Junior |

Add Comments
Corinthians' outspoken president Andres Sanches has said today that he intends to break away from the Clube dos 13. For those of you who don't know, Clube dos 13 is a group composed of the biggest Brazilian teams who negotiate, among other things, T.V. deals and how they are shared among members.
Corinthians has the second largest fan base in Brazil and believe they deserve a bigger cut of any new T.V. deal.
If this does happen it will be a sad day for Brazilian football. With Corinthians gone whats to stop Flamengo, Sao Paulo, Palmeiras etc. from leaving? These teams will make loads of cash, get the best players and squeeze out the little and even medium sized teams.
The competitive league we see today in Brazil will begin to resemble its European counterparts.
So are you guys ready for a league dominated by a select few?
February 21st, 2011
By: Junior |

2 Comments
After years of controversy, Flamengo will share, with Sport, the 1987 championship. CBF had said, not too long ago, that there was no way it would recognize the championship (lol). But now Flamengo, who had five championships, wakes up today with six! Brazilian magic!
Basically the story behind the 1987 championship goes as follows: CBF didn't have money to create/manage a tournament. So, Brazil's biggest teams got together and decided to form their own tournament (the Copa Uniao, which Flamengo won). CBF initially agreed to recognize the Copa Uniao champions as Brazilian champions, however CBF later felt that it might lose control of Brazilian football if it recognized the tournament. So another championship was created by smaller Brazilian teams (won by Sport Recife), which CBF did recognize.
Not too long ago CBF decided to merge the champions of the Taça Brasil (1959–1968), Torneio Roberto Gomes Pedrosa (1967–1970), and Campeonato Brasileiro Série A (1971–present). This was extremely controversially because some of the Taca Brasil champions needed to play but four matches. Some felt that it was unfair to call a team who played four games "champions." Others however saw it as the most important national championship of the time and those who won them (Pele, Tostao and Djalma Santos, among others) should be recognized for what they did.
Flamengo saw all of this as an opportunity to once again demand their 1987 title. After submitting a report last month to CBF, Flamengo was awarded the title today .
Congrats Flamengo fans!
Now who gets to keep the Campeonato Brasileiro trophy (which was supposed to be awarded to the first team to reach five championships) Flamengo or Sao Paulo?
How do you guys feel about all of these titles being recognized? Is it fair or not?
As for me, I agree with the Flamengo title being recognized, but I believe Sao Paulo should get to keep the trophy. As for the Taca Brasil…I'll stay on the fence.
February 20th, 2011
By: Junior |

1 Comment
Ronaldo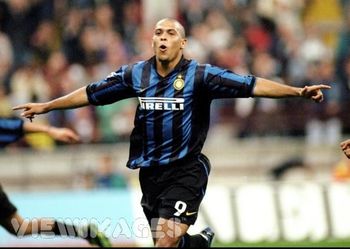 So Ronaldo has finally called it quits! It's a bittersweet moment indeed. Being rather young I've only been really watching soccer for 10 years so that limits the players I've seen play, however I've never seen a player like Ronaldo. The guy had everything and he became the poster boy for soccer worldwide. So indeed it's sad to say goodbye to the Phenomenon, however his time has come and gone. We've seen him struggle on the pitch since his Real Madrid days, and many of us could not bare to watch him in his current state. He was really undermining the image he had created for himself. So yes, I'm glad he has retired because this way he preserves the image he created, but to me at least, he continues to be the greatest. Thanks Ronaldo!
Ronaldinho
Now to the other Ronaldo. Certainly this is old, but I feel like I should give my two cents either way. After a LeBron James-like fiasco that he and his brother coordinated as they looked for a new club, Dinho finally ended up at Flamengo. Personally I like that Ronnie is coming back. Why? Well, for one he has nothing left to do in Europe. Okay he had a better than expected season last year with Milan, but his ever increasing age and belly along with his need to party has plummeted his career and so really, he has nothing to be doing in the highest level of football. Sorry, but Milan are better without him. The other reason I liked his move is because he gives continuation to the great migration home many Brazilian players have taken. Seeing him in Brazil encourages other players back to Brazil, which certainly can't hurt the Brazilian league. Now will he be successful at Flamengo? I believe he will have his ups and downs. He's played three games so far and scored twice, which isn't bad, but his actual performance hasn't been anything too extraordinary. I believe he will certainly get better with time and that he is in much better shape than Ronaldo when he went to Corinthians. However I don't like this current Flamengo side much… I guess only time will tell how far Ronaldinho and Flamengo will go.
Copa Libertadores
Ah the Libertadores, the dream of all Brazilian teams. No, no its not the Champions League, but it might as well be. The team who wins it, earns big. Money from sponsors, TV rights, prize money, player transfers, international exposure oh and the right to rub it in the cross-town rival team's face. Brazilian clubs have done well in recent years making it to the finals 16 of the last 19 years (albeit they have only won 8 of those 16 finals). This year Corinthians, Cruzeiro, Fluminense, Gremio, Internacional and Santos are playing. Corinthians were knocked out in the preliminaries (the first Brazilian team to do so). Of course this drove fans crazy and ultimately led Ronaldo and Roberto Carlos' demise. As for the other teams, Cruzeiro and Gremio have started off with big wins, while Santos, Libertadores champs Inter  and Brazilian champs Fluminense managed to tie in their opener. Any predictions of whose taking the Copa Lib this year? Will it be a Brazilian team? Leave your opinions below.
National team
I'm suppose to cover more of the Brazilian league while at the World Cup Blog covers the national team. However I feel like I should throw some words on here about Brazil's 1-0 lost to France…it sucked. Losing to France at the Stade de France brings back all sorts of bad images, which made the loss even harder. Mano Menezes has not given people a whole lot of reasons to be confident in him. He lost to Argentina (who Dunga was very successful against). Although already qualified for the next World Cup, Brazil may embarrass itself in 2014 if it doesn't get its act together. Needless to say international embarrassment may already be caused by the fact that  stadiums and infrastructure projects are already way behind schedule… I really don't know.  Anything besides winning the trophy on home soil will be considered a failure. So if Brazil were to exit out, at say…the group stages…its safe to assume all hell would break loose in Brazil. I will say this though, Brazil usually prevail when you least expect them to (2002 anyone?). I can only hope.
State Tournaments
The state tournaments have started and well, er, nobody cares. Like most I believe these tournies are pointless, so I won't go into too much detail on them, but the standings for the more important ones are listed below. However to their defense, state championships usually have a knockout round (which can be fun to watch) and I do usually watch the semifinals and finals of the bigger ones like the Carioca and Mineiro. They also provide chance for upsets. Today Fluminense (the reigning Brazilian champs) were knocked out at the semifinals of the first round of the Carioca by Boavista (league-less Boavista). Internacional were likewise knocked out of the first phase of the Gaucho by Cruzeiro-RS (not to be confused with the more prominent Cruzeiro from Minas Gerais). To their defense though, those two are more focused on the Libertadores than anything else.
January 23rd, 2011
By: Junior |

1 Comment
For anyone who watches the Brazilian leagues, you know about the great deal of growth the league (and country) has gone through in the past few years.
For starters back in '03 we switched to a European round-robin league format. Before this we would constantly change league formats and have way too many teams participating. By adopting the European system (although still controversial in Brazil) the league gives itself more respect with foreign viewers.
For a while now clubs have begun improving facilities and have begun to better develop their youth divisions (MLS take notes).
Perhaps most shocking over the past few years has been the return of players like Ronaldo, Robinho, Adriano, Ronaldhino, Fred, Elano etc etc.
Yea yea you might say that the only reason these players came back was because there was no space for them in European. True but in my opinion this "Great Return" would never have happened say 5-10 years ago. The answer? Brazilian clubs have gotten better at marketing. With a superstar in their squad teams get loads of sponsorship money (not to mention more coverage nationally and internationally, as well as attracting more fans in the stadium). That's why Santos, instead of selling Neymar last year for 30 million euros, decided to hang onto him a little longer. If reports are to be believed the kid is still making just as much as he would in Europe.
With this said its no surprise (at least to me) that the Brazilian league has been ranked number three (sorry it's in Portuguese) when shirt sponsors are summed up. The study was done by German Sport+Markt. Of course Brazilian teams usually have two or three sponsors as apposed to the European standard of just one. Still the numbers are what they are and Brazil is getting closer and closer to the big boys.
Top 6 Leagues (in Euros):
England: 128
Germany: 118
Brazil: 105
Italy: 62
France: 59
Spain: 57
Top 6 Clubs:
Man U: 23.6
Liverpool: 23.6
R. Madrid: 23
Corinthians: 22
Bayern Munich: 22
Chelsea: 16.3
P.S. Barcelona will  make about 30 million euros a year starting next July with Qatar Foundation, which will make them number one on the list. It will also boost Spain to fourth on the league list.
January 21st, 2011
By: Junior |

1 Comment
Why hello there! Starting now I will be your lovely host on this here Brazil Offside. After TWO YEARS of inactivity I intend to resurrect this blog. Oh and if you still haven't caught on…your not getting any naked pictures…oh okay.
So how did I end up on this blog? Well after heavy speculations throughout the transfer season and several blogs trying to guarantee my services, Ian busted out the mult-year, million dollar deal I had been looking for. I wanted to join a blog that would be a real contender for the title and I believe my teammates here on The Offside are world class and the supporters are great. I'm looking forwards to a terrific season!
No but seriously…I was a reader of the blog for a few years and was upset when Bruno quit. So here I am. You can call me Junior and I've been an avid futebol fan my entire life. I'm Brazilian but I reside in the States. This will be the first time I blog about anything so take it easy on my writing…
How often can you expect a post? I will hopefully blog once or twice a week. I was hesitant to start the blog up when Bruno quit because I was unsure if I could stay committed, but I'll try and at least it will be better than having no blog. I'll cover matches from the state league, Brazilian league, Brazilian cup, Libertadores, rumors, and anything else I find interesting.
I'm no expert, I'm just a regular dude. I'm doing this as a hobby and looking at it as something fun to do. If the blog begins to take up too much of my time and I begin to obsess, I'll pull the plug. I want a place where English-speakers can discuss Brazilian soccer. I don't want this to be a one way thing, I want input from you guys and your opinions on games. That's the beauty of this game: everyone has their opinion and a different way of looking at the game.
Alright now that we have the awkward introduction phase over lets get to the footy! Brazilian league is currently on break but some state leagues have started and the Copa Libertadores will start shorty…so stay tuned for recap on all the action. I'll make Brazilian soccer lovers out of you all yet!
February 5th, 2009
By: Bruno Romani |

2 Comments
February has started and the Brazilian season as well, so I felt it was about time to come here and write my final words in this blog. Yes, final. After covering almost 2 entire Brazilian seasons – the many state championships, Copa do Brasil, Copa Libertadores, Copa Sulamericana, Campeonato Brasileiro, besides the national team and the oddities and curiosities of Brazilian football – it's time for me to move on.
It's sad to leave behind a blog which had almost no audience when I started and today has a very decent number of readers. In January, I didn't post one thing and I still had more than 6 thousand visits. But I have my reasons to move on.
I believe everyone should be rewarded for its hard work. If a person works hard, there should be no reason for one not be rewarded. For 2 years, I posted on this blog pretty much after every match happening in Brazil. Even when I found myself with lots of work to do. I do understand that once you sign up for a Offside, they state very clearly that it's not a paid position. But, as my "day job" is writing and reporting, my motivation for taking care of this blog started to decrease. I don't need the "recognition" factor to be my motivation. Every time I get published, the number of people reading me is way bigger than the audience of this blog. And I can't have this blog just as a hobby otherwise the frequency of posts would reflect that (as you can see with the blogs of the Brazilian clubs). I do believe that the writers of the most popular blogs of The Offside should be rewarded. But we (or they) are not and I have to respect that. This is just their system.
So before I started another season with no motivation, i decided to stop. Just don't get me wrong here. I did enjoy writing here. But it was time to move on. And I hope what I wrote above explains my move.
I will join another blog. A blog that is smaller and does not have all the "glamor" of the Offside, but a blog that shares my belief that good work should be rewarded. A blog that, as small as it is, has a project. I will join my colleague Ana at the (www.seethecup.com). Everything you got used to reading here you will find there. So I hope to see some of you there.
Thank you again to all readers for the support. You're amazing. Thank you Bob for giving me the chance to write here. And thanks to all The Offside community.
See you soon.
December 12th, 2008
By: Bruno Romani |

Add Comments
10 thousand fans are expected to see him in the afternoon.
And with this picture, I'm officially on vacation. (Maybe) I'll see you next year.
December 9th, 2008
By: Bruno Romani |

5 Comments
The two most important prizes choosing the best players of Campeonato Brasileiro were both handed on Monday. One, the most traditional, is called Bola de Prata (silver ball) and it is offered by Placar, the most important magazine on football in Brazil, since 1971. The choices are made in the following way: the journalists from the magazine watch every single game and give notes to players. The best average in each position wins. Also, the best average of the tournament takes Bola de Ouro (golden ball). The magazine also offers a prize to the top striker.
The other prize is newer and it is offered by CBF. In this one, the coaches, the captains and a jury vote on their choices for each position. The best player, the best coach, the top striker and the best new talent are also awarded.
Pay attention because except for Rogerio Ceni, most of the two lists are very likely to leave Brazil. On the other hand, staying in Brazil helps accumulating awards. Rogerio Ceni reached his 6th Bola de Prata (passing Zico) and this time he took home the Golden Ball too. In the same way, Muricy Ramalho, Sao Paulo coach, took home his 4th prize as the best coach in 4 editions of the CBF's award.
Compare the two teams and tell me which one you like.
Placar – Silver Ball:
GK: Rogerio Ceni (Sao Paulo)
RB:Vitor (Goias)
D:Andre Dias (Sao Paulo)
D:Miranda (Sao Paulo)
LB: Juan (Flamengo)
DM: Hernanes (Sao Paulo)
DM: Ramirez (Cruzeiro)
OM: Wagner (Cruzeiro)
OM: Tcheco (Gremio)
F: Borges (Sao Paulo)
F: Nilmar (Inter)
Golden Ball: Rogerio Ceni (Sao Paulo)
CBF's Selecao do Campeonato
GK: Vitor (Gremio)
RB: Leo Moura (Flamengo)
D: Thiago Silva (Fluminense)
D: Miranda (Sao Paulo)
LB: Juan (Flamengo)
DM: Hernanes (Sao Paulo)
DM: Ramirez (Cruzeiro)
OM: Diego Souza (Palmeiras)
OM: Alex (Inter)
F: Kleber Pereira (Santos)
F: Alex Mineiro (Palmeiras)
Coach: Muricy Ramalho (Sao Paulo)
Best Player: Hernanes (Sao Paulo)
Best new talent:Keirrisson (Coritiba)
Best Player According to fans: Thiago Silva (Fluminense)
Placar also showed the worst averages of the tournament, known as "Bola de Lata":
GK: Clemer (Inter)
RB: Carlinhos (Fluminense)
D:Jorge Luis (Vasco)
D:Negretti (Nautico)
LB:Willian Matheus
DM: Alceu (Nautico)
DM:Fabio Gomes (Sport)
OM:Luciano Mandi (Ipatinga)
OM: Ramon (Figueirense)
F: Enilton (Sport)
F: Washington (Portuguesa)
The curious thing is that 3 of these men were in the starting line-up of Palmeiras when they last played Copa Libertadores in 2006. Alceu, Enilton and Washington were there. And you wonder why the club failed…
December 9th, 2008
By: Bruno Romani |

Add Comments
Information just came in this morning. He signed with Corinthians for 2009 with a renewal option for the following year. Ronaldo's goal, according to someone linked with Corinthians, is the 2010 World Cup, and playing in Brazil for a paulista club is a great choice. The club already started selling jerseys.
On the other hand, Flamengo, whom Ronaldo fed the hopes of fans during all this time, was caught by surprise. The fan movement "Fica Ronaldo" (Stay Ronaldo) is already talking about burning pictures of the forward.
Great to see another huge name back to Brazil.